Six obstacles in high voltage connector design
29-03-2019
Designing high-voltage cable assemblies and connectors is challenging and many aspects of cable assemblies must be considered.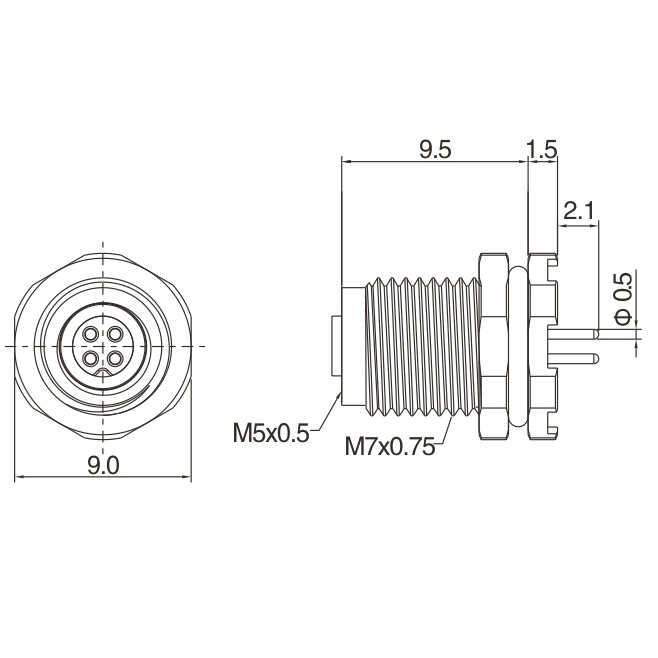 Before you start designing, you must ask some common but very important questions, such as: what is the working voltage and current?Under what conditions will the cable work?Does the cable meet certain specifications?Do you have any special requirements?
After you have answered the first questions above, you can begin to design the draft.This article presents six of the most common design problems and tips on how to avoid and overcome them.
The size constraint
Size constraints often make designing high-voltage connectors and cable assemblies particularly challenging.In general, high voltage cable assemblies are the last piece of equipment that customers need to consider when designing their equipment.
The space required for high voltage connections to meet work requirements is often not met.The industry is moving toward smaller, lighter components with higher work thresholds.The use of space to offset high pressure is a thing of the past.
Many companies now expect design teams to come up with effective solutions to solve these problems while also reducing the cost of cable assemblies.In general, custom connector designs are required to achieve this goal.
Design around existing connectors
Designing around existing connectors has proved difficult.Users often ask to use existing connectors that they cannot discard.In general, these connectors do not perform as well as they should, or match another element in their design that is a legacy component.
Another reason is that connectors need to work under higher performance thresholds that the current configuration cannot meet.In either case, an in-depth analysis of the inner workings of the connector component is required.By working closely with the users, the engineering team needs to analyze all aspects of the design: what materials are used?What are the mechanical and electrical properties of these materials?What aspects of the design can be modified to meet the required specifications without affecting the installation, form, and function of the design?
The cost of
In the current economic climate, a major obstacle to high-voltage design is keeping costs down.This proved difficult when trying to design a connector that is reliable, efficient, and robust enough to meet or even exceed user requirements.In many cases, performance ultimately gives way to cost reduction.
There are techniques that can be used to minimize costs without compromising performance.For example, using existing materials that are in stock and available, using hardware from existing designs, incorporating them into new designs, and using existing tools, molds, and fixtures, designing new components from highly cost-effective materials that do not affect performance.

manufacturability
The manufacturability of the design is a key part.The design may look beautiful on paper, but is it easy to make?Design difficulty affects the direct labor time required to build the cable assembly, which in turn affects the cost.
Design difficulties also affect the ability to maintain a repeatable and reliable process.If the process is not repeatable, you may experience an inherent cable failure.These potential process issues should be identified and addressed during the design review process.
material
It is important to select the right materials that have the required performance characteristics and maintain design efficiency.High voltage cable assemblies and connectors require materials to perform well in electrical and mechanical properties.
Careful analysis of the working environment and its effect on materials is key.The use of different materials has proved problematic.Good adhesion between materials is especially important when trying to counteract high pressures.Without good adhesion between the materials, the voltage cannot be offset to accept the air, which requires a greater distance between the high voltage and the ground when designing the components.
Use the same material to support bonding between materials, effectively counteracting the high pressure and allowing smaller connectors.Depending on the material you want to bind to, the use of paints and adhesion promoters can prove useful if different materials are used in the design.
Coronary highlight
Crown - free design can be very difficult.Well designed cableless assemblies ensure reliability, flexibility and durability over long periods of time.
Many factors must be considered when designing cable-less assemblies.The first is to choose the right cable.Most designs use triple extruded cables.This ensures the smoothness and uniformity of the conductor and ground.Next is the connector interface.The interface should be sufficiently distant to cancel out the applied voltage and eliminate air.

The art of avoiding design obstacles
1.Size: start thinking about cable assemblies or connector structures as early as possible.High pressure may require more space than you think.
2.Use existing designs: if you need to modify existing designs, it is best to consult a custom designer, so that they can ensure that your new requirements are met.
3.Cost: don't be too obsessed with cost.Reliable, durable and safe designs are cheaper in the long run.
4.Manufacturability: do not over-design.Be realistic about your expectations.Sometimes the simpler the better.
5.Materials: to ensure the best and most reliable binding between dielectric, use the same materials.
6.Coronal/partial discharge: connector geometry is very important.The sharp edges are like coronal antennas.All sharp edges should be rounded as far as possible.
NBC Electronic Technological Co.,Ltd(NBC),founded in 2006,our aim is: innovate product category,control first-class quality.We have wide range of space in fast connectors ,industrial connectors,power connectors,battery connectors,charging connectors,electrical connectors,high current connector ,Anderson power products,APP connectors,module connectors,battery connectors and so on .In the year 2019,we had go abroad and compete for the international market.

If you have any comments and suggestions about our module connectors.please call the service staff.
Please login on our page http://www.houdpower.com to know more about the modul connectors.