Anode oxidation process
13-03-2019
Process flow

Monochrome,gradient :polishing/sandblasting/drawing-oil removal.anode oxidation.neutralization,dyeing,hole sealing ,drying .
Double colour
1、polishing/sandblasting/drawing-oil removal-shelter-anode oxidation
1-anode oxidation 2 hole sealing,drying
2、polishing/sandblasting/drawing-oil removal-anode oxidation 1-
Radium vulture- anode oxidation 2-hole sealing-drying
Material
Aluminum alloy

Compared with stainless steel and aluminum magnesium alloy,anodized aluminum has the advantages of stable colour,high weight strong,light and thin ,strong corrosion resistance,better metal texture,anti-fouling fingerprint,good thermal conductivity.
Technical feature
Aluminum alloy is low density and high strenth.its surface could be anodized to enhance its function and decoration.Anode oxidation could achieved any colour except white.It could also be achieved oxide layer by shading and removing.At present ,it has realized nickel-free sealed .which meets the requirements of Europe ,USA and the other countries.
Classification
Single colour ,doubour colour,gradient
The Instance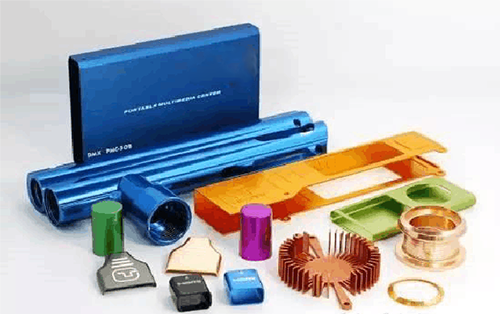 NBC Electronic Technological Co.,Ltd(NBC),founded in 2006,our aim is: innovate product category,control first-class quality.We have wide range of space in fast connectors ,industrial connectors,power connectors,battery connectors,charging connectors,electrical connectors,high current connector ,Anderson power products,APP connectors,module connectors,battery connectors and so on .In the year 2019,we had go abroad and compete for the international market.
If you have any comments and suggestions about our module connectors.please call the service staff.
Please login on our page http://www.houdpower.com to know more about the modul connectors.